Cardi B Reacts To Winning A BET Award!!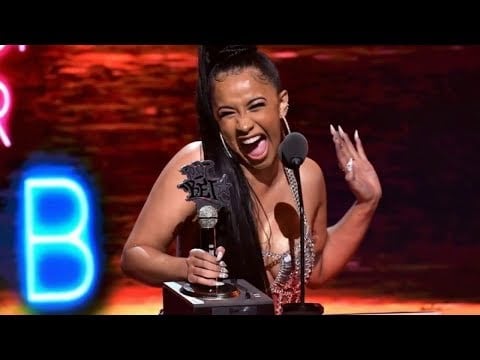 Female rap artist, Cardi B won best female hip hop artist on the BET  award show. Cardi was very excited and very grateful for the honor. Cardi could not attend the award show, she's expecting her first child with Offset, rapper from rap group, Migos.
Cardi B is really making a name for herself in hip hop music. Cardi is having phenomenal success.
Cardi B Stays Appreciative
One of the things that really stands out with Cardi is she has a great persona. Her music does have a edge but her tunes are playful, funny and very energetic. Cardi has a style that seems to appeal to a lot of hip hop music lovers. That could be one of the reasons she is doing so well.
Also, Cardi is really appreciative  and remains humble with her success, thus far. Cardi is careful to give accolades to other female rap artists who have paved the way for her generation. All of these qualities are important to have as a hip hop artist. Especially, because the culture always seems to get a bad rap in the media.
In her acceptance speech she was very excited to have won the BET award and as always she did not forget to thank her peers, female  pioneers and her fans for believing in her. She mentioned how the media would rather see female hip hop artists have beef opposed to celebrating one another. Again, this is one of the reasons people love Cardi, she speaks her mind.
More importantly, Cardi has that New York home girl swag. In other words, Cardi is very outspoken, candid and street. This all comes across in her music.
Bodak Yellow. A Billboard Hit!
In fact, in her song "Bodak Yellow" which hit number 1 on billboard  hot top 100, Cardi is not ashamed to let us know she use to dance but now she makes money moves.
Bodak Yellow one of the top 13 hip hop songs of 2017, is not only one of her best hits but some of the lyrics in  the song became some what of an anthem for some  young females in the culture. Cardi makes references to Louboutin shoes, calling them bloody shoes.
Cardi's body of music has won numerous awards: she has won a billboard music award, BET hip hop awards of 2017, a Soul Train music award, and Cardi has received two Grammy award nominations. Certainly, for a new artist that is quite a resume.
Congratulations,  Cardi! You deserve the recognition!
For more Hip Hop Entertainment News go to our YouTube channel, Hip Hop News Uncensored