Will Smith In New Film 'Emancipation'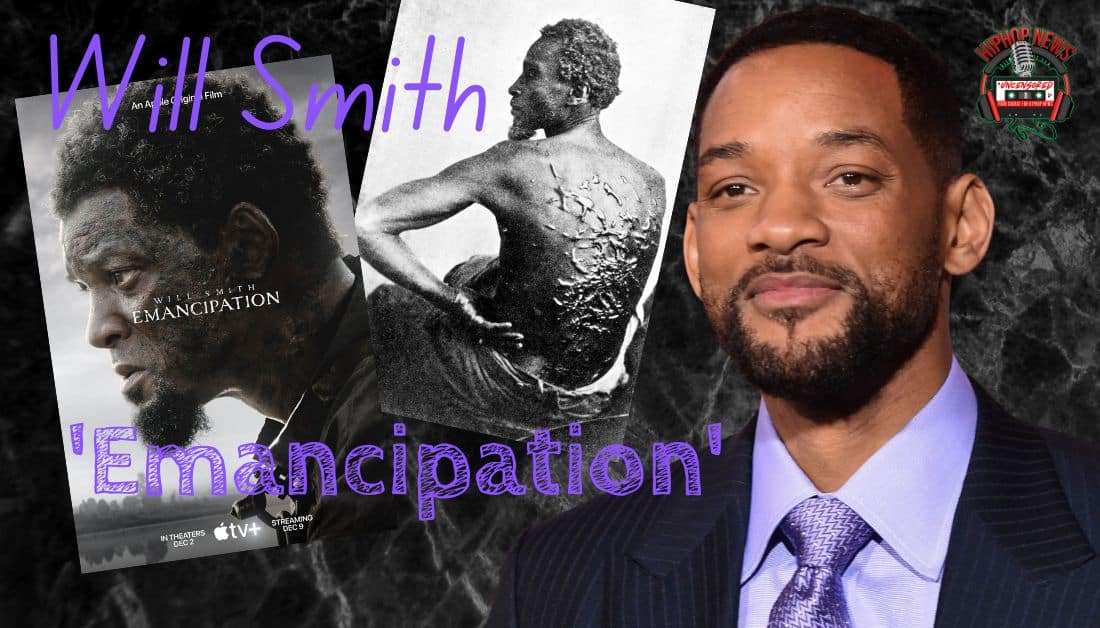 Will Smith is headed to the theatre with a historical action thriller film, Emancipation. After its debut, it will hit Apple TV next.
Will Smith Teaser Drops For His New Film 'Emancipation'
Will Smith is starring in his brand new project, Emancipation which is based on a true story.
While this is a story about slavery, it's much more than that.
Speaking on the film, Smith made the following statement –
"Throughout my career, I've turned down many films that were set in slavery. I never wanted to show us like that. And then this picture came along. And this is not a film about slavery. This is a film about freedom. This is a film about resilience. This is a film about faith…about the heart of a man."
You can see the teaser below.
The film made its debut at the Black Caucus Foundation's 51st Annual Legislative Conference.
CAST
Will Smith as Peter
Ben Foster as Fassel
Steven Ogg as Sergeant Howard
Charmaine Bingwa as Dodienne
Gilbert Owuor as Gordon
Mustafa Shakir as Andre Callioux
Grant Harvey as Leeds
Ronnie Gene Blevins as Harrington
Jayson Warner Smith as Captain John Lyons
Jabbar Lewis as Tomas
Michael Luwoye as John
Aaron Moten as Knowls
Imani Pullum as Betsy
While uploading the teaser to his YouTube channel, Will posted –
"This was the hardest movie I've ever made. Blood, Sweat & Tears… LITERALLY! Shoutout to @Apple who doubled (and tripled) down on their commitment to deliver this epic story to the world."
Check out the teaser for Emancipation now –
Directed by Antoine Fuqua, and written by William N. Collage Emancipation tells the story of a slave by the name of Peter who escaped a plantation in Louisiana to join his family.
Adding to his comments, Smith explained –
"Cameras had just been created, and the image of whipped Peter went around the world. It was a rallying cry against slavery, and this was a story that exploded and blossomed in my heart that I wanted to be able to deliver to you in a way that only Antoine Fuqua could deliver."
Eventually joining the Union Army, his back was medically examined and the wounds went on to become 'the first viral image'.
Look for Emancipation when it hits theatres on December 2nd.
Additionally, it will hit Apple TV on December 9th.
Will Smith is back, and I'm ready for it.
Want more stories on Will Smith … hit us up.
Hip Hop News Uncensored. It's the Leader in Hip Hop content on YouTube!