Spike Lee Movie, 'Da 5 Bloods' Coming To Netflix!!!
Spike Lee Movie, 'Da 5 Bloods' coming to Netflix. Revisiting Vietnam well after the war, 5 black squad members look for their fallen leader…and buried gold.
Chadwick Boseman, Delroy Lindo Star In New Spike Lee Joint
Ready for another Spike Lee Joint? Get ready for his latest release, Da 5 Bloods, a war-drama soon coming to Netflix. So what is it all about? Da 5 Bloods is a war-drama about four African-American Vietnam war veterans who return to Vietnam in search of the remains of their fallen squad leader and the promise of buried treasure.
This project is directed and produced by Spike Lee, who also shares writing credits with Danny Bilson, Paul De Meo, and Kevin Willmot. Along with Lee, producers include John Kilik, Beatriz Levin, and Lloyd Levin.
CAST OF CHARACTERS
Delroy Lindo as Paul
Clarke Peters as Otis
Norm Lewis as Eddie
Isiah Whitlock, Jr. as Melvin
Chadwick Boseman as Norman
Jonathan Majors
Jasper Paakkonen as Larry Thorne
Paul Walter Hauser as Simon
Jean Reno
Melanie Thierry
Veronica Ngo as Hanoi Hannah
Giancarlo Esposito
Johnny Chi Nguyen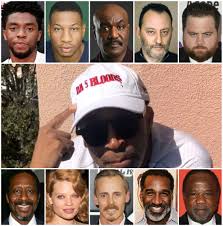 Currently, Spike Lee has two seasons of the reboot of "She's Gotta Have It" streaming on Netflix. And according to Pitchfork, their are other projects in the works, including a film adaptation of David Byrne's American Utopia Broadway show. Additionally, Lee is working on the hip-hop Romeo & Juliet story Prince of Cats.
You can catch his newest flick, 'Da 5 Bloods' on Netflix starting June 12th. Will you be watching?
For more Entertainment News check out Hip Hop News Uncensored. It's the best YouTube channel for Hip Hop.