Lil Durk Challenges 6ix9ine To A $50M Fight In Dubai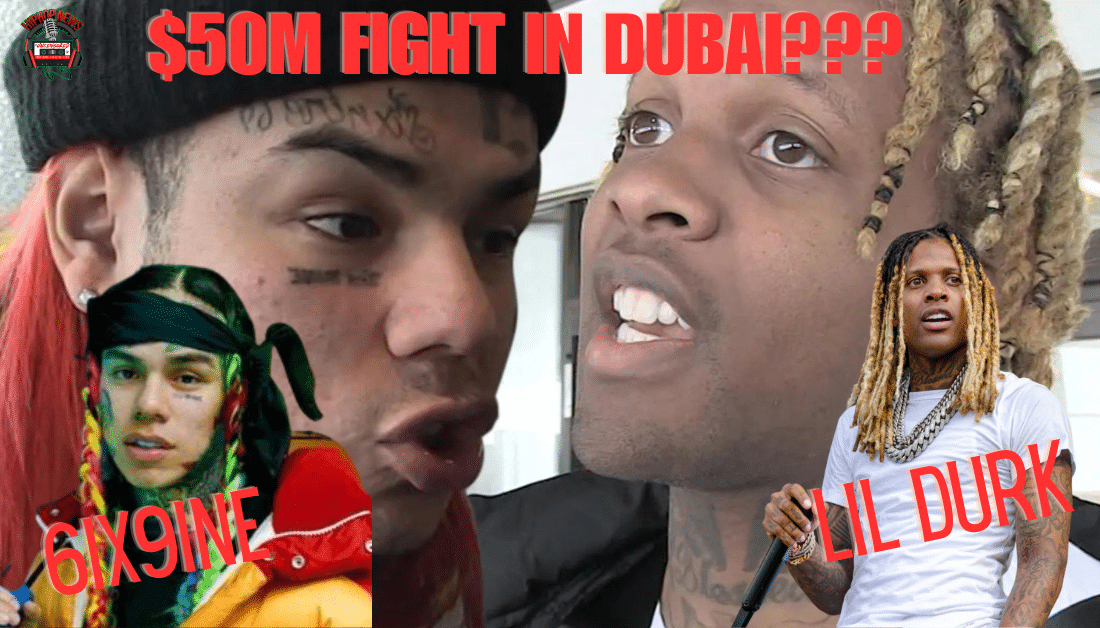 Lil Durk Challenges 6ix9ine To A $50M Fight In Dubai. The rap industry is buzzing with news of a high-stakes boxing match.  between Lil Durk and 6ix9ine. The two rappers have been trading insults over social media for months.
Lil Durk and 6ix9ine to Face Off in $50M Dubai Boxing Match
Lil Durk Challenges 6ix9ine To A $50M Fight In Dubai.
Now, it appears there will be a showdown between the two.
Fans eagerly await the event, which promises to be a spectacle for the ages.
As stated by Vibe, the rapper issued the challenge in an Instagram post.
He went on to say,
"I got $50 million my own money without help to fight you on TV in [Dubai]. We can double the money. Three rounds. Go talk to your rich friends. Let's set it up [for] September. Stop the violence."
The boxing match between Lil Durk and 6ix9ine is shaping up to be a must-see event.
The two rappers have been bitter since 6ix9ine dissed his friend King Von.
The Dubai match will allow them to settle their differences in the ring.
The venue for the match has not yet been announced.
However, it may take place in Dubai.
The $50 million prize money will surely attract a vast audience.
At the same time, fans can tune in from around the world.
Hip Hop News Uncensored. It's the Leader in Hip Hop content on YouTube
Who Will Be The Victor: Lil Durk Or 6ix9ine?
Rapper Daniel Hernadez, aka 6ix9ine, is not backing down.
Check out what he said,
"U need anything to promote this album since nba young boy not biting the bait," 6ix9ine wrote. "But I wanna fight you for no money pussy. For free."

And this where it gets even more weird, "Come to Miami let's get a hotel room and just throw down 1 on 1."

Durk immediately backtracked, "Bait ? Hotel? Aw naw I'm cool enjoy your day …. I'm not worried bout sells [sales] I just wanted to beat your ass fir some money."
Both rappers have been successful in their careers.
But this match will determine who comes out in popularity and relevance.
The two rappers have a decision to make.
Who will come out victorious in the battle?
That is, if there is a fight between the two rappers, as stated by The Source.
It remains to be seen who will come out on top, will it be Lil Durk or 6ix9ine?
Hip-Hop fans will be watching both in Dubai and everywhere else.
The Lil Durk and 6ix9ine boxing match will surely be a memorable event.
The $50 million dollar prize money is a testament to the high stakes.
Whether you're a fan of hip-hop or boxing, this is one event you won't want to miss.