Markelle Fultz Signs With RocNation Sports!!!
Markelle Fultz Signs with RocNation Sports. Markelle was the No.1 draft pick when he was picked up the Philadelphia 76ers. However, after two years Markelle was traded to Orlando Magic basketball team.
Markelle signed with the best in the business
RocNation is signing a  lot of athlete's with promising careers still a head of them. Markelle is among a list of elite athlete's, as reported by CBS Sports. Other athlete's who have signed with RocNation are: Todd Gurley, JuJu Smith-Schuster, Saquon Barkley and Kyrie Irving just to name a few. Although, Markelle has had issues with a shoulder injury it did not stop Orlando Magic from signing him. Markelle's contract with the Orlando Magic is worth $12.3 million. Once this years basketball season begins Markelle will be well represented.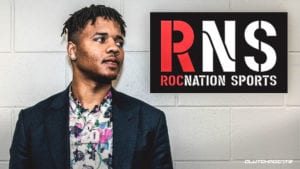 For more Hip Hip Sports News check us out at Hip Hop News Uncensored. It's the best YouTube channel for Hip Hop.