Comedian Hope Flood's Interview On Secret Hollywood Contracts!!!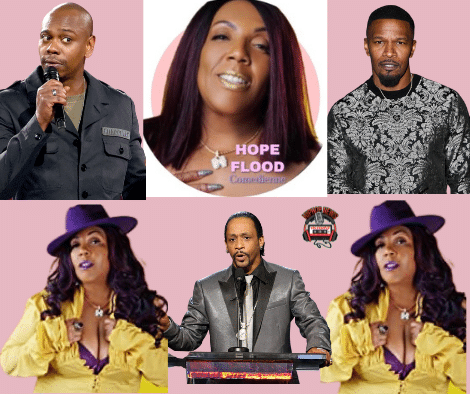 Comedian Hope Flood talks about what comedians face in Hollywood. She spoke about Dave Chappelle and Kat Williams. Also, during her interview, she revealed information about her career in comedy.
Are There Secret Contracts Signed By Celebrities?
Comedian Hope Flood has been in comedy for over 30 years. She brings her Michigan upbringing her style of stand-up. When Flood relocated to Los Angeles to live with her mother she found her calling. Comedy for Flood was a way to express her gifts. Flood began her career in comedy around 1989. It was difficult for her to breakthrough in comedy clubs. So, she formed a club of her own.
Flood's comedy club was extremely popular in the '80s. Many comedians graced the stage early in their careers. One of Hollywood's famous entertainers Jamie Foxx started his stand-up routine on Flood's stage. The comedy club was the hottest thing, especially on Tuesday nights.
In an interview with Vlad TV, we found late comedian Robin Harris did his stand-up on the stage. Also, Flood talked about Foxx character Wanda routine was started at her club. And, we all know that the character "Wanda" was a favorite on Living Color, as reported by Hot New Hip Hop.
However, in this very revealing interview with hosts O'God and SamAnt, Flood did not hold back. The conversation to a very interesting turn when Flood spoke about comedian Dave Chappelle's alleged reason for leaving "The Dave Chappelle Show." She spoke on the issues comedian Kat Williams and  Bill Cosby's dealt with.
Even more interesting was hearing her analogy on how corrupt the entertainment industry really is. When she talked about the shady contracts and deals that are made behind closed doors it was an eye-opener. We've heard the rumors of parties at secret blood oaths. But what Flood revealed during this interview seemed to validate the horror stories of children allegedly being molested by some of those in the entertainment. This is an interview you don't want to miss.
Check out the video above for more details.
For more Hip Hop Entertainment  News, check us out at Hip Hop News Uncensored. It's the leader in Hip Hop YouTube Commentary.