Is There a Nicki Minaj and Cardi B Beef?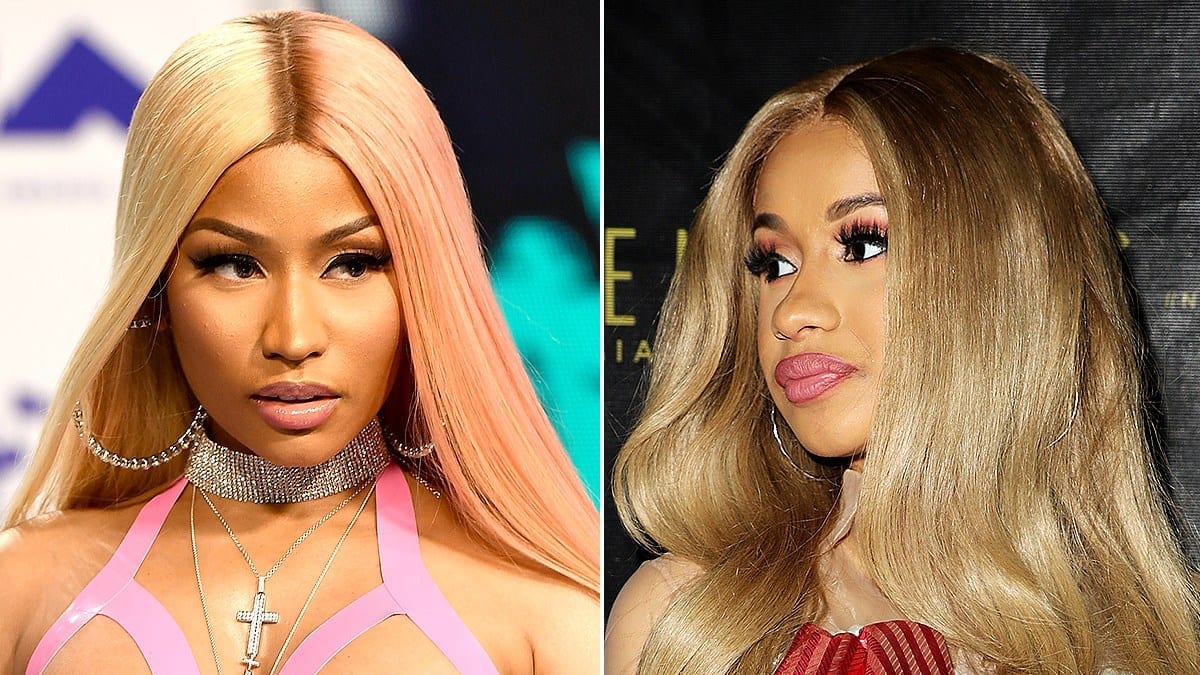 There's been some major beef between Nicki Minaj and Cardi B. The Uncensored Truth Podcast host O'God and Sam Ant discussed the new developments of female rappers Nicki and Cardi ongoing beef in public. Since the altercation during New York Fashion week the two female rappers have made headline news. During a party at Harper Bazaar Icons party allegedly, Cardi and Nicki were in an altercation. Is there a Nicki Minaj, Cardi B beef?
Nicki spoke about her beef with Cardi B
On her Queen Radio Podcast program Nicki finally spoke about the events that caused Cardi to lunge at her. Nicki claims she did not say anything about Cardi or her daughter. However, she had a lot of negative things to say about Cardi.
Females must learn to settle their differences without fighting
What seems to be missing from this equation is the way females are socialized. It is clear that Cardi is still a little rough around the edges. It is not uncommon for some young females to settle their issues by fighting it out.  However, not all females settle their issues this way.
Nicki's is much older than Cardi and has been in the spotlight a lot longer. She has learned certain etiquette that Cardi has not yet learned. Both rapper have been known to be very vocal. Certainly, this does not excuse Cardi's behavior. However, instead of saying negative things about the situation between the two female rappers let's be more supportive.
A Nicki Minaj, Cardi B Beef was Bound to Happen
Some are not surprised about what happened between these two. Whether Nicki talked about Cardi's daughter or not still remains to be seen. Hearsay is common among women in general. Often conversations are taken out of context when the story travels from one person to the next.
Allegedly, Cardi was told by outside sources that Nicki was trying to ruin her career. And on top of that news, Cardi was told that Nicki was saying really bad things about her baby girl. Any mother would be offended if someone was to bad mouth their children. who would blame However, the bigger issue how can we change the narrative about beef in the rap community. This kind of bad behavior is simply unacceptable.
Is it Nicki Minaj's place to say Cardi needs professional help?
As Nicki Minaj and Cardi B beef continues, we believe it's not fair of Nicki to assume that Cardi needs professional help. It would have been better for Nicki to squash the beef between them. Her negative comments will only add fuel to the fire, so to speak. This could have been a teachable moment for Nicki. She could have offered to meet with Cardi to discuss their differences. Here is some of what Nicki said about Cardi, according to The Daily Dot:
" She built her career off of sympathy and payola. Let's get up a 1 800 number for postpartum depression. It's nothing to joke about. You just had the biggest blessing of your life with a child, and in two weeks you have attacked three women – one at Fashion Week. Also, I could not believe how humiliating it all felt because of how we made ourselves look. You're angry and you're sad and this is not funny and this is not about attacking. You put your hands on certain people, you gonna die. Period."
Ultimately in the Nicki Minaj Cardi B Beef…
On the other hand, Cardi really needs to manage her anger a lot better. At any rate, I agree. Come on women, we have to learn to support and love each other.
For more Hip Hop Beef News go to our YouTube channel, Hip Hop News Uncensored