Conway Calls Out Funk Flex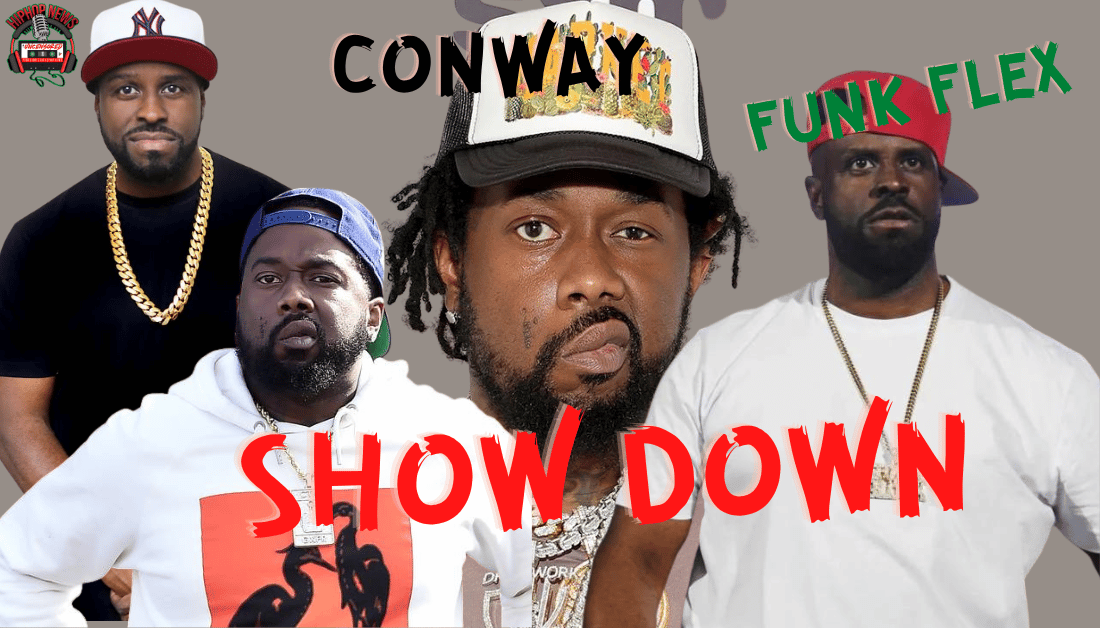 Conway Calls Out Funk Flex. It appears that Conway is riding for Griselda. And, he let Funk Flex know it.
Is Funk Flex A Gatekeeper?
Conway Calls Out Funk Flex. This is not the first time Funk Master Flex was called a gatekeeper. And, surely it will not be the last. But does Conway have a legitimate point? Does Funk Flex only pay for popular rap music?
According to Vibe, Conway points out his issue with Funk Flex. For one thing, Conway feels Funk Flex needs to be checked. Especially since Funk Flex does not celebrate artists like Conway.
In other words, there is only one style of music Funk Flex plays.  When it comes to The Griselda artist, there is less radio play. Somehow, Conway and Benny Tha Butcher's music is left out.
For this reason, Conway is sounding the alarm. Here is some of what he shared,
"Sh*t, New York, in my opinion, man, you gotta get them old ni**as up out the way like [Funk] Flex and them ni**as, man," Conway said. "Them gatekeepers that ya'll got up there that's trying to dictate. Good thing I don't need y'all ni**as 'cause if I needed y'all ni**as, y'all ni**as would be fake stifling my growth. Y'all don't play my sh*t, [DJ] Suss 1, you got on Wendy Williams' show, ni**a, on primetime TV ni**ga and said what you said. Flex, every time you get a chance [you downplay us]. You said that, you gotta stand on that. You didn't shit on us, I wanna make that clear. He ain't say nothing wrong. Sh*t, that ain't his motion, he don't listen to that sh*t . But it's like, what do you listen to then, bruh?"
He did not stop there,
"You wanna di**ride the ni**as that's lit and popular in the club and all that sh*t, that's what you ni**as do," he said. "That's the problem, we gotta get rid of you ni**as, man. Let some new, young, tapped in, really tapped in with the streets a** ni**as be the DJs and run that shit up there at Hot 97."
Having said this, Conway wanted Funk Flex to get the message. Although, Conway admits Funk Flex does not stop his flow. Nor does Funk Flex stop his money. However, he served Funk Flex notice.
There need to be some changes. Of course, Conway was not bashing Hot 97 radio. He wanted it to be clearly stated. His love and respect for the radio stations are real.
After hearing Conway's issue with Funk Flex, do you agree or not? Should Funk Flex change his mindset? As it relates to celebrating all kinds of rap. Or is it time for Funk Flex to hang it up? What say you?
Check out the video above for more details.
Hip Hop News Uncensored. It's the Leader in Hip Hop content on YouTube