21 Savage Pulls Out A PISTOL During FIGHT At Pool Party In Atlanta!!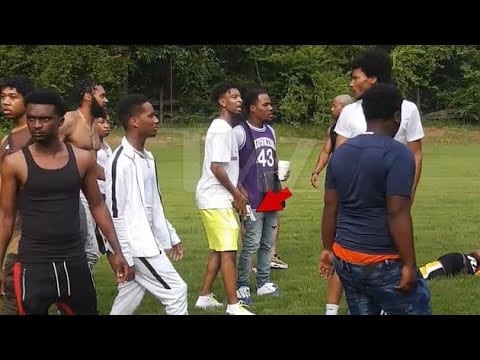 21 Savage pulls out a pistol during a fight at a pool party in Atlanta.
According to a report by TMZ, rapper 21 Savage flashed a gun at a pool party in Atlanta this weekend. During the pool party a fight broke out and 21 Savage was seen with a gun, lock and loaded. This annual rager  deemed the "Big Ass Pool Party" is held in the Atlanta area every year. It appears that a large group of people crashed the event through the back. Supposedly, all hell broke loose when someone from the rowdy crowd spoke to one of the females with 21 Savage group.
Someone from the crowd that crashed the pool party pulled out a gun. One of Savage people handed him a gun to protect himself. There were no charges filed.  No one was arrested. Eventually, cops shut the party down.
21 Savage Signed with Epic Records
For more Hip Hop Entertainment News go to our YouTube channel, Hip Hop News Uncensored