The Philadelphia Eagles 2023 Draft Picks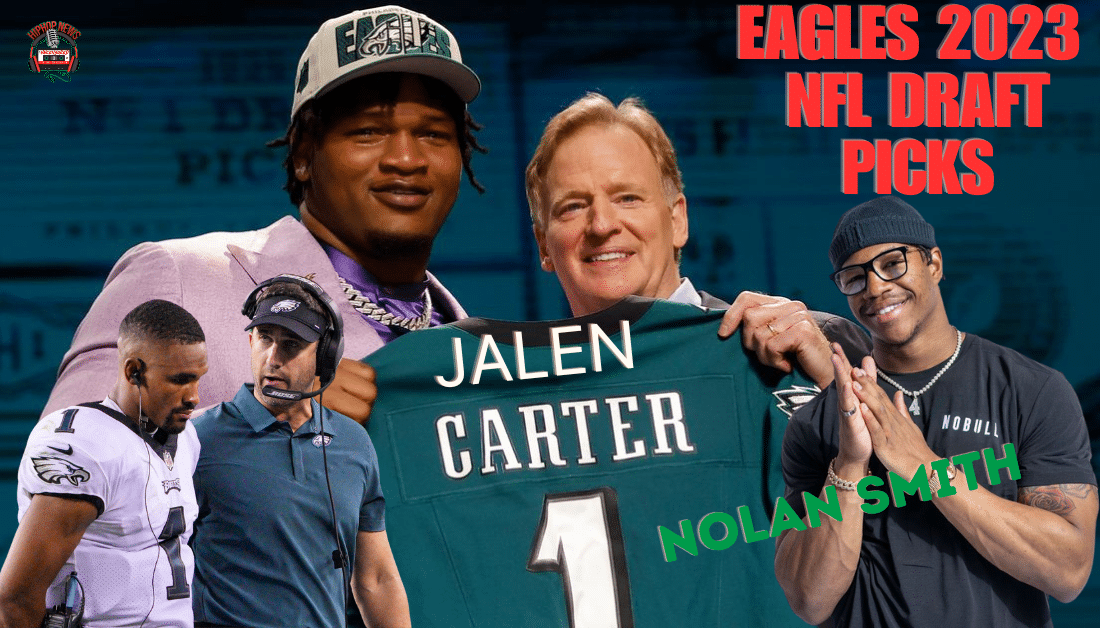 The Philadelphia Eagles 2023 Draft Picks. Defensive Tackle Jalen Carter was chosen. Carter was No.9 in the 2023 NFL Draft.
Did The Eagles Make Great Draft Choices?
The Philadelphia Eagles 2023 Draft Picks. Two names were swirling( during the draft.
It was predicted that Philadelphia would pick No.1 or No. 2 from the NFL.
However, it was a surprise Carter got the coveted spot.
According to CBS News,
"The Eagles own their own first-, second-, and third-round picks in addition to having the New Orleans Saints' 10th overall pick thanks to a trade back in last year's first round. They are missing their fourth-round pick thanks to their acquisition of defensive end Robert Quinn from the Chicago Bears at the 2022 season's trade deadline. The same goes for their fifth-round pick that was part of a preseason trade that netted them Gardner-Johnson from the New Orleans Saints. Their sixth-round pick belongs to the Jacksonville Jaguars thanks to a trade back in 2021 for cornerback Josiah Scott. Philadelphia is in possession of their own seventh-round pick in addition to the Texans' seventh-round selection that they acquired via the Minnesota Vikings when they dumped their former first-round pick wide receiver Jalen Reagor. Here's a look at how they should utilize those selections in the 2023 NFL Draft in order to continue to have one of the NFL's best rosters."
This does seem a bit complicated for sports enthusiasts. But for the Eagles franchise, it makes perfect sense.
After having such a winning season, it may be hard to match it.
It was NFL's Commissioner Roger Goodell who handed Carter his Eagles jersey.
During the ceremony, Carter was overwhelmed with joy. Carter went from the 30th to the 9th without delay.
 
Furthermore, that sort of thing happens during the draft.
We will now get to see if selecting Carter was the right choice.
Will Carter balance out the defensive line?
At the same time, the Eagles' other choice balances out the offense.
By the way, both Jalen Carter and Nolan Smith played for Georgia, as stated by CBS News.
 
Incidentally, Carter and Smith were a dynamic duo, a rushing pair.
So, Eagles general manager Howie Roseman acknowledges Carter as an asset.
At the same time, chief security officer Dom DiSandro echos Roseman's confidence in Carter.
Here is what Roseman said,
"We understand all these players need to be developed," Roseman said. "They're coming into the league at a very young age. They're not finished products. I think all of us, when we were 21 or 22 hopefully have grown a lot from that time. You just really want to get to know the person and what's in their heart."When we got to know Jalen, we felt like, here's a kid that does love football, obviously he's a winner, he won in high school, he won in college. We felt like we have really good people in this building, we have a really good support staff, we have really good players who are good people, we have really good coaches, and we felt like it was a good fit for us."
Despite Carter's alleged trouble with the law, Roseman wanted him.
Are you ready for some football? I can almost hear you thinking, will the Eagles return to the Super Bowl?
At this point, I think the Eagles selecting these players makes a Super Bowl appearance possible.
After all, the Eagles had a spectacular record last season.
Having said this, we will see what the players will round off the Eagle's roster.
Hip Hop News Uncensored. It's the Leader in Hip Hop content on YouTube