Rick Ross Calls Out DJ Envy in Car Show War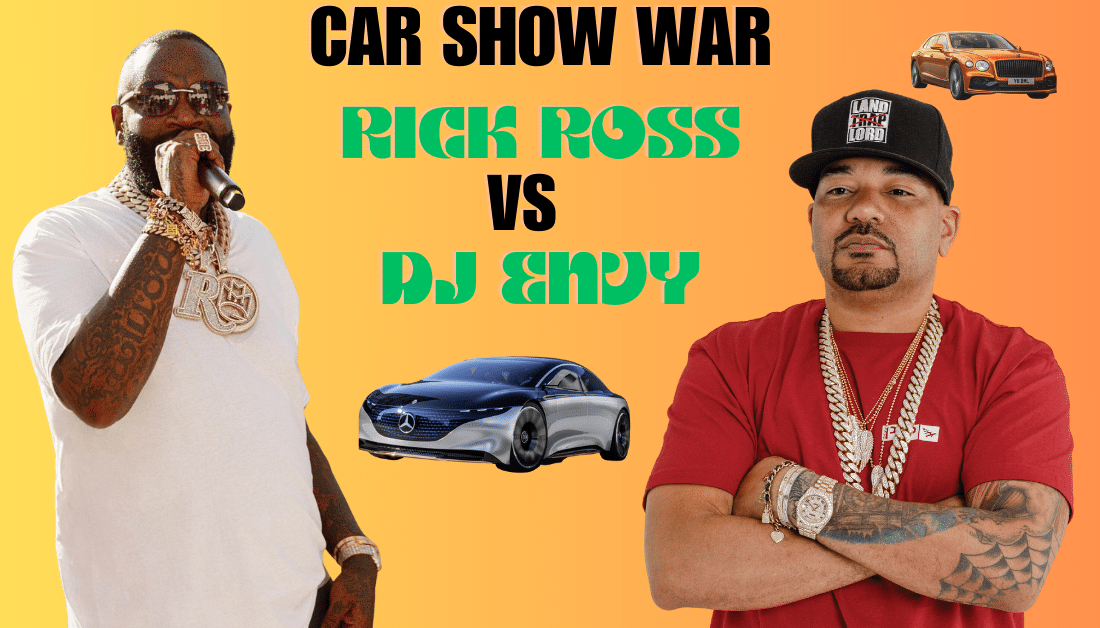 Rick Ross Calls Out DJ Envy in Car Show War. The car show world is heating up with a new feud between Rick Ross and DJ Envy. The two have been at each other's throats over the past few weeks. The beef has escalated to the point where both sides are vying for superiority in the car show world. Ross says DJ Envy's car show can't compare to his.
Rick Ross accuses DJ Envy of sabotaging his car show
Rick Ross Calls Out DJ Envy in Car Show War.
Rick Ross took to social media to call out DJ Envy for thinking his car show was better.
Ross claims Envy could never compete with him in the car show arena.
Envy and Ross both have car shows. However, according to Ross, there seems to be a discrepancy in the best performance.
He goes on Instagram to post his thoughts,
View this post on Instagram

Despite Ross's opinion, both may have great car shows.
But that has not stopped the two celebrities from engaging in a war of words.
As stated by XXL Mag, each is trying to compete with the other.
Truthfully, the war of words is just friendly banter.
Especially since Ross and Envy have not said anything negative about each other.
Nevertheless, Complex mentions, Envy saying.
"Ross, you Airbnb your home! The house that you sleep in!" Envy said. "Eddie Murphy slept in your bed. They shot Coming to America and Eddie Murphy man-milked your bed."
I wonder if Ross will take offense to Envy dissing his home?
If so, will their playful banter turn into something more?
Hip Hop News Uncensored. It's the Leader in Hip Hop content on YouTube!
DJ Envy Dissy Rick Ross Home May Cause Things To Escalate
As I mentioned earlier, Envy dissed Ross hard.
This may make their playful rivalry turn into a feud.
That is if Envy gets upset about Ross calling him a "Beige Boy."
On the other hand, Ross could take offense to Envy calling his home an Airbnb.
Both sides are now attempting to outdo each other.
Perhaps, both will step up their game by displaying more luxury automobiles.
Or is Envy trying to steal some of Ross's thunder with his car show?
Of course, Ross did run into some difficulty with his car show.
During an episode of "The Breakfast Club," Envy pointed out that Ross allegedly did not get permits for his car show.
The city of Fayetteville has not given Ross permits yet.
But Ross claims he will still have his car show.
However, it may not be on his property in Fayetteville, NC.
Once again, I iterate there could be a problem brewing with Ross and Envy.
With both sides determined to come out on top, it's anyone's guess as to how this feud will end.
The car shows the world is highly competitive, and the feud between Rick Ross and DJ Envy is just the latest example.
Stay Tuned!!!