Queen Latifah & Dj Drama Recreate Juice Video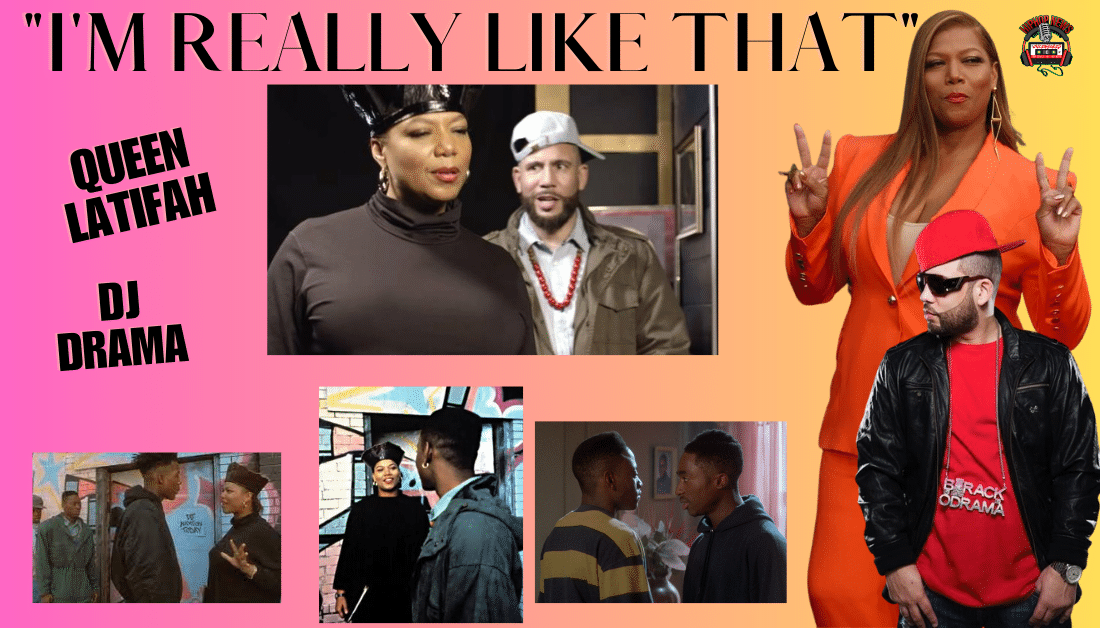 Queen Latifah & Dj Drama Recreate Juice Video. This is from a movie scene in the cult classic 'Juice.' It was released on March 27, 2023.
DJ Drama & Queen Latifah Present 'I'm Really Like That' Video
Queen Latifah & Dj Drama Recreate Juice Video. It is almost as if they went back in time. As the video unfolds, Latifah is arguing with a DJ.
Although, we don't know the DJ's name, in the movie.  We do know the actor 's name 'Flex Alexander.'
Alexander became famous as a dancer and actor. I digress.
The disgruntled DJ was upset because Laifah did not like his demo, as stated by Hip Hop DX.
It was DJ Drama's character's turn to have his demo heard.
When Latifah hears his demo, she says, I really like your tape. Of course, a huge smile breaks out on DJ Drama's face.
Latifah's character Ruffhouse M.C. nods her head in approval. He was hired on the spot. In the actual film 'Juice' actor Omar Epps portrayed Q as an up-and-coming DJ.
This film was rapper Tupac Shakur's break-out role as an actor. Not to mention, Omar Epps did a phenomenal job acting as 'Q."
Incidentally, DJ Drama's character tape featured"HO4ME". Rapper Lil Baby is holding down the lyrics.
Not only that, it was a great way to promote his new album. As a matter of fact, DJ Drama's album is scheduled to drop on March 31, 2023.
We have seen the resurgence of DJ Drama's "Gangsta Grillz" mixtapes.
According to Revolt, the video release comes at a perfect time. Especially since DJ Drama has been busy elevating his game.
Better yet, I like the idea of Latifah's role reprised by her.  It gives the video a level of authenticity.
After all, Queen Latifah is a true legend in the Hip Hop culture.
Queen Latifah & DJ Drama Video Was  Directed By Jim Jones
Equally important, the video was directed by rapper Jim Jones. Jones is another veteran rapper. I'm sure you're with me on this one.
Jones did very well with directing the video.
By the way, adding Juelz Santana from his rap group "Diplomats" was an added bonus.
Santana standing in line behind DJ Drama waiting for his turn.
Tyree Simmons aka DJ Drama admits Omar Epps inspired him to be a DJ.
I'M REALLY LIKE THAT – Audition ft. Queen Latifah
Therefore, this was a tribute to Epps and Latifah. Here is another interesting fact, I uncovered.
Santana was thrilled to work with veteran rapper Dana Owens aka Queen Latifah.
Having said this, check out the video. Tell me what you think.
The Hip Hop News Uncensored. It's the Leader in Hip Hop content on YouTube