Alicia Keys and Lil Durk Team Up for 'Therapy' Vid!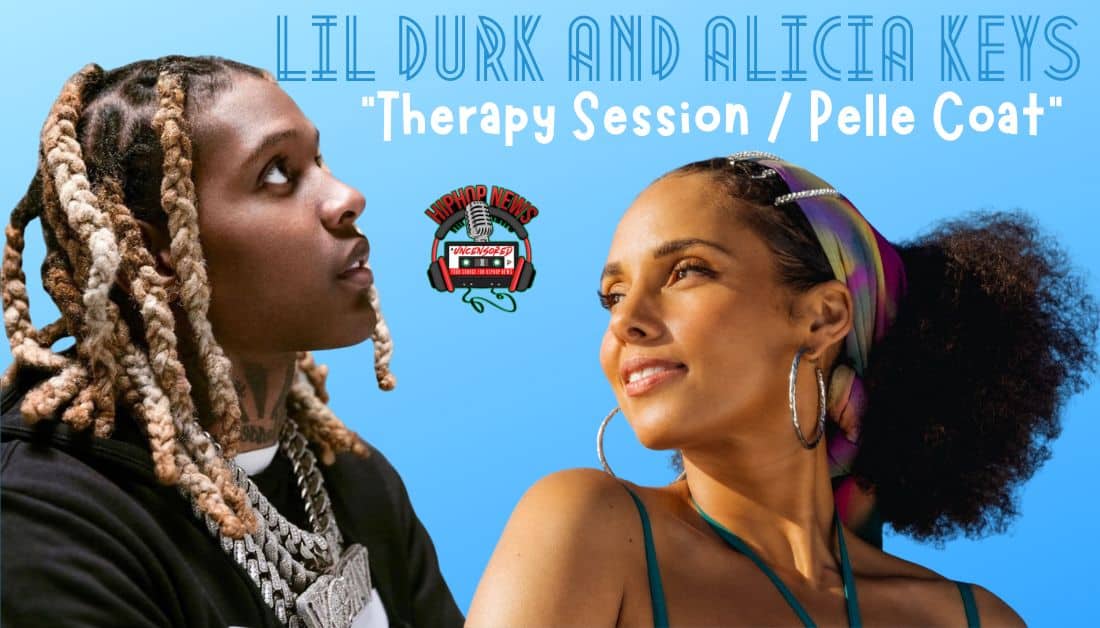 Alicia Keys and Lil Durk have collaborated to create a breathtaking music video for their latest single, 'Therapy Session / Pelle Coat'. This track is part of Lil Durk's upcoming album, 'Almost Healed'.
Keys and Durk Collaboration Is Musical Therapy
It's always exciting when two amazing artists come together to create something spectacular.
And that's exactly what happened when Alicia Keys and Lil Durk joined forces for their latest project.
Fans have been eagerly waiting for the release of "Therapy" and the official music video is finally here!
You can see the video below.
Therapeutic Collab Alert: Keys and Durk Join Forces!
Alicia Keys and Lil Durk may come from different genres, but they both share a common goal – creating music that speaks to the soul.
Together, they've created "Therapy," a song that encourages listeners to take care of their mental health.
The song itself is a beautiful mix of Keys' soulful vocals and Durk's raw rap verses.
It's a perfect collaboration that showcases both artists' strengths.
In the behind-the-scenes footage of the video shoot, Keys explains the inspiration behind "Therapy".
She talks about how it's important to take care of your mental health and how music can be therapeutic.
Durk adds that he's excited to be part of a project that encourages people to take care of themselves.
It's clear that both artists are passionate about this project and want to make a positive impact on their fans.
Get Ready to Feel Good: 'Therapy' Video Drops!
The "Therapy" music video is everything fans could have hoped for and more.
It's a visual representation of the song's message of self-care and mental health awareness.
The video is directed by Lacey Duke, who also worked on Keys' "So Done" video.
It features Keys as a therapist, counseling the rapper about all the things that he's been dealing with in his life.
The video is a beautiful reminder to take care of ourselves, especially during these difficult times.
It shows that it's okay to take a break from our busy lives and prioritize our mental health.
And with the beautiful, soothing voice of Alicia Keys and the raw talent of Lil Durk, "Therapy" is a song that will bring joy and comfort to listeners everywhere.
Alicia Keys and Lil Durk have truly created something special with "Therapy."
It's a collaboration that showcases the power of music and the importance of taking care of ourselves.
The video is a beautiful visual representation of the song's message and is guaranteed to lift your spirits.
So sit back, relax, and let Alicia Keys and Lil Durk take you on a therapeutic journey with their latest project.
Check out the official music video for 'Therapy Session / Pelle Coat" now –
So how do you like this one?
Lil Durk is currently burning up the charts with his 'All My Life' single.
It's sitting pretty at No. 2 on Billboard's Hot 100 chart.
You can join him when he takes to the road on his 'Sorry For The Drought' tour.
It begins on July 28.
Additionally, you can catch up with Alicia Keys this summer as she embarks on her 'Keys To The Summer" tour, which starts on June 28.
Want more on Lil Durk and Alicia Keys… hit us up!
Hip Hop News Uncensored. It's the Leader in Hip Hop content on YouTube!