Megan Thee Stallion Heating Up Madame Tussauds
Megan Thee Stallion is heating up Madame Tussaud's with not one, by two wax figures. The Hot Girl is on fire.
Megan Thee Stallion Heating Up The Summer In Wax At Madame Tussaud's
Get ready to turn up the heat this summer! Madame Tussauds has just welcomed the queen of Hot Girl Summer herself, Megan Thee Stallion. Fans of the talented rapper can now experience being up close and personal with the star. Two wax figures have been added to the museum's collection. It's time to get waxed and wavy with this sizzling addition to Madame Tussauds!
Turn Up the Heat: Madame Tussauds Welcomes Megan Thee Stallion!
Madame Tussauds has always been known for its lifelike and impressive wax figures of celebrities. Megan Thee Stallion is no exception. The museum has done a fantastic job of capturing the essence of the rapper. From her signature hairstyle to her fierce expression, you can get up close and personal with the star. Fans can pose for pictures with Megan's wax figures, and even recreate her iconic "Hot Girl Summer" music video.
This has been a dream come true for Megan, who took to Instagram to share her excitement about the news.
"I feel like people always ask me when was the moment you knew you were famous? This is the moment! There are two versions of me in the most famous wax museum on the planet. Like, who am I? Them!" – Megan Thee Stallion
It's clear that Megan's Hot Girl Summer motto is alive and well. The 28-year-old rapper/singer/songwriter's wax figures are only adding to the hype surrounding the rapper.
Waxed and Wavy: The Hot Girl Summer Comes to Madame Tussauds!
Megan Thee Stallion's wax figures are not just a testament to her popularity, but also to her influence as a female musician. She is still breaking barriers in the music industry and is a role model for many young women. Her wax figures are a symbol of her success and a reminder of the impact she is making on the world.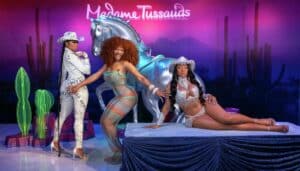 Madame Tussauds' decision to add Megan's wax figure to their collection is a nod to the power of Hot Girl Summer, and the impact that Megan has had on the culture. It's a celebration of female empowerment and a recognition of the diversity and beauty of women of all shapes and sizes. With her wax figure now on display, Megan Thee Stallion's fans can continue to embrace the Hot Girl Summer lifestyle, while enjoying the heat that comes with it.
This summer, Madame Tussauds is the place to be! With Megan Thee Stallion's wax figures now on display, fans can experience the excitement and energy of Hot Girl Summer firsthand. It's time to turn up the heat, strike a pose, and enjoy all that Megan Thee Stallion and Madame Tussauds have to offer. Get ready to get waxed and wavy, because Hot Girl Summer has arrived!
Megan's figures will be available to the public exclusively at Madame Tussauds on May 20 in the Las Vegas location. Additionally, the New York location will have them on display on May 29.
Want more on Megan Thee Stallion… hit us up!
Hip Hop News Uncensored. It's the Leader in Hip Hop content on YouTube!