Benzino's Twitter Rant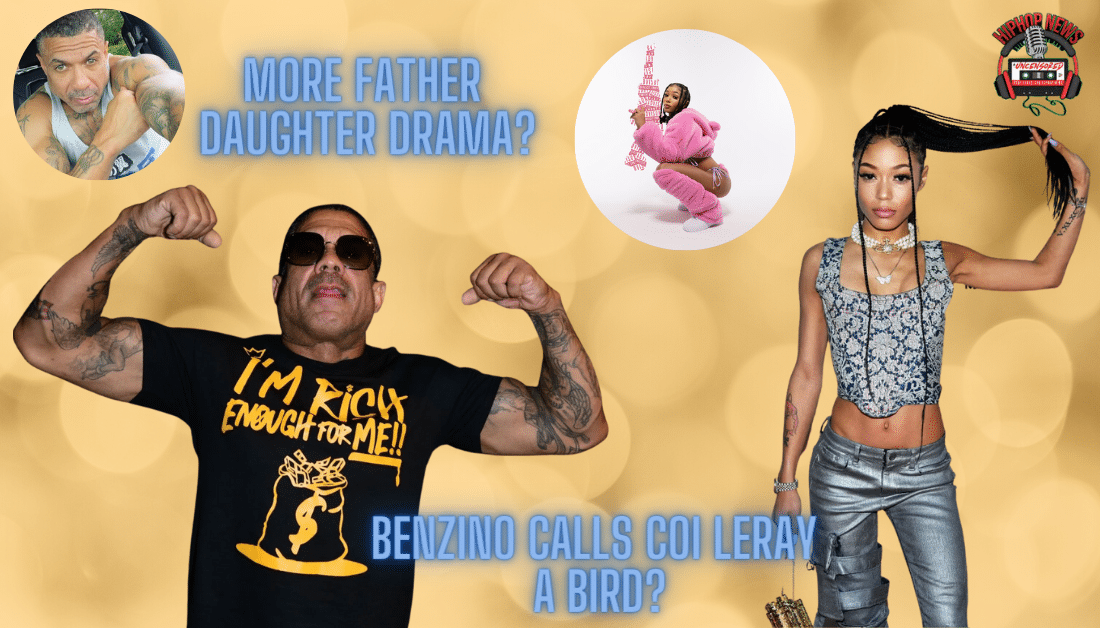 Benzino's Twitter Rant. Somebody take Benzinos' phone! The former Source CEO is at it again. This time, firing shots at his daughter Coi Leray.
Twitter Fingers
Benzino's Twitter Rant. Benzino continues to make headlines with his outlandish social media posts. Of course, some people see it as clout chasing.
One minute he's dragging 50 Cents' name through the mud. The next minute, he's feuding with his only daughter Coi Leray.
Well, today Coi is the target. Seemingly, Zino's rant comes after Coi showed love to Eminem. As you may know, Benzino and Eminem had a long-standing beef from the early 2000s.
Although, the beef allegedly was squashed. Recently, it was announced that Eminem would be entering the Rock & Roll Hall of Fame. Of course, this is much to Benzino's dismay. He responded via Twitter saying:
"So where's Nas, Eric B and RAKIM, Kool Moe D, Epmd, Fearless Four, Fat Boyz, Lauren Hill, Little Kim, OutKast and 100s other Black rappers?? GTFOH"
Subsequently, Coi Leray decided to show love to Em. Simultaneously, Coi tells her dad to relax. She tweeted:
"I'm about love, equality, respect and forgiveness. I have nothing against Eminem, 25 years of my life all I know is he a very talented artist and actor ! (8 Mile was great). Let's build bridges and get over them before you burn the bridge and burn with it."
Well, this didn't blow over too well with her Hip-Hop Pops. Thus, Benzino has been letting off rounds of internet ammo since then.
Family Still Feuding
Here's what Z had to say:
"As far as the lil 🦜 who keeps talking about love and forgiveness. Well there's this word called "loyalty" and a commandment that says "Honor thy Mother and Father" As far as burning bridges, there no bridge bigger than the one you burnt with your own blood."
Yes, he seemingly referred to his daughter as a bird. Furthermore, he alludes to the industry taking advantage of her and confirms he'll love her from a distance.
"One day you will realize that the people in these blogs comment section do not really care about you like I do & your label execs will have you sell your soul to make millions. I LOVE & ADORE my only daughter but I will just have to do it from a distance. ❤️😔😢"
Without a doubt, people quickly responded and jumped to Coi's defense. As a result, Zino responded to them by defining the "bird" comment.
"For all you fartherless half retarded  commenters out there, there's a saying caked "little birdie" not "bird". I know half of y'all's dads bounced for whatever reason but I was actually in my daughter life all the way. Go find out where your dad is and hug him & get off my 🍆😆"
Most people say it's giving clout chaser. As well as Benzino attempting to stay relevant off the heels of his daughters' success. But is the name-calling necessary?
Above all, we always hope to see families get past their differences. As Coi said in her TWINNEM single, that loyalty everything.
Hip Hop News Uncensored. It's the Leader in Hip Hop content on YouTube!