A Jury Convicts 3 Men In Murder Of Rapper XXXtentacion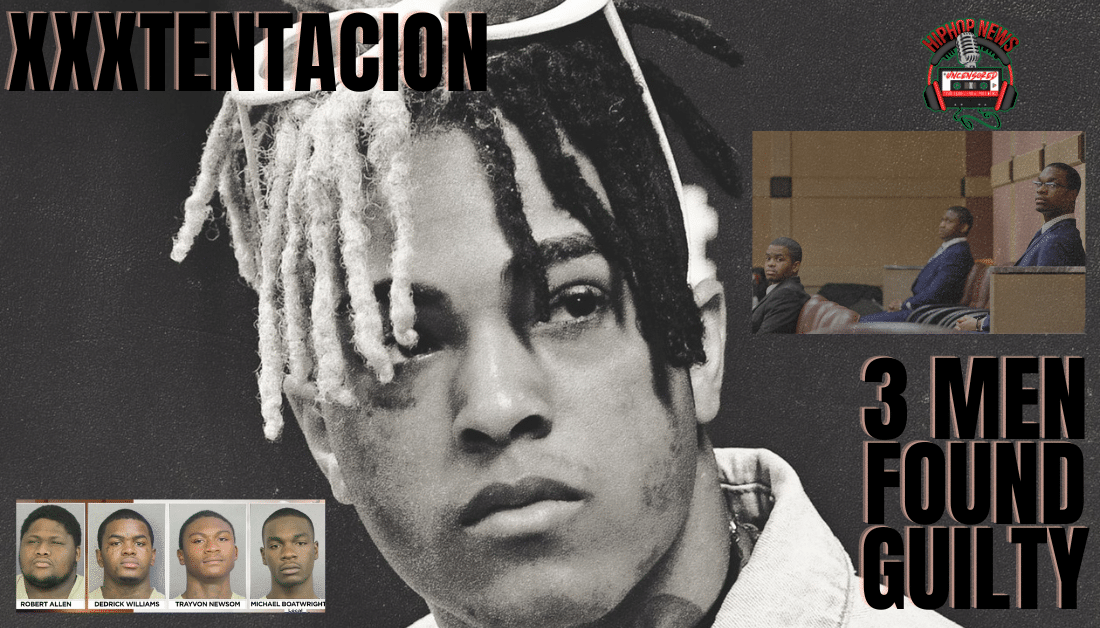 A Jury Convicts 3 Men In Murder Of Rapper XXXtentacion. The verdict is in. The charge of first-degree murder was handed to each man.
There Was No Acquittal For Suspect's In XXXtentacion's Murder
A Jury Convicts 3 Men In Murder Of Rapper XXXtentacion. Assistant State Attorney Pascale Achille gave her closing rebuttal.
However, jurors were not convinced of the suspect's innocence. Therefore, Michael Boatwright, 28, Dedrick Williams, 26, and Trayvon Newsome, 24, were found guilty.
It's been almost 5 years since the death of rising star  Jahseh Onfroy. Onfroy was fatally shot on June 19, 2018. Onfroy was robbed in broad daylight, as stated by The NY Times.
It took the jury a week for deliberations. But the Fort Lauderdale, FL jurors agreed on Boatwright, and Newsome were the gunmen.  Furthermore, Williams was the getaway driver.
During the month-long trial, prosecutors linked the men to XXXtentacion's shooting. In fact, the actual shooting took place outside Riva Motorsports in suburban Fort Lauderdale.
Not only that, surveillance videos showed the men flashing $100 bills. In addition, prosecutors had the testimony of Robert Allen. Allen admitted to participating in the robbery.
Surveillance Video Released On Rapper XXXTentacion's Murder

Last year, Allen was convicted of second-degree murder for his part in the incident. Let me elaborate, Allen has not been sentenced yet. Matter of fact, Allen could walk away with time served.
In other words, for his testimony against the other 3 men, Allen may be freed. As if that is not enough, Allen may be labeled an informant, according to NPR. I digress.
Here is what Allen testified,
"Allen testified that the men set out that day to commit robberies and went to the motorcycle shop to buy Williams a mask. There they spotted the rapper and decided to make him their target. Allen and Williams went inside the shop to confirm it was him. They then went back to the SUV they had rented, waited for XXXTentacion to emerge and ambushed him."
You guessed it, XXXtentacion was allegedly not the intended target. As the result, XXXtentacion's life ended on that fateful day. Many believed XXXtentacion had such a promising career ahead.
We will never get to know XXXtentacion's full potential. At least, the 3 men who robbed and murdered him will pay.
The Hip Hop News Uncensored. It's the Leader in Hip Hop content on YouTube