Ida B. Wells-Barnett : Anti Lynching Campaign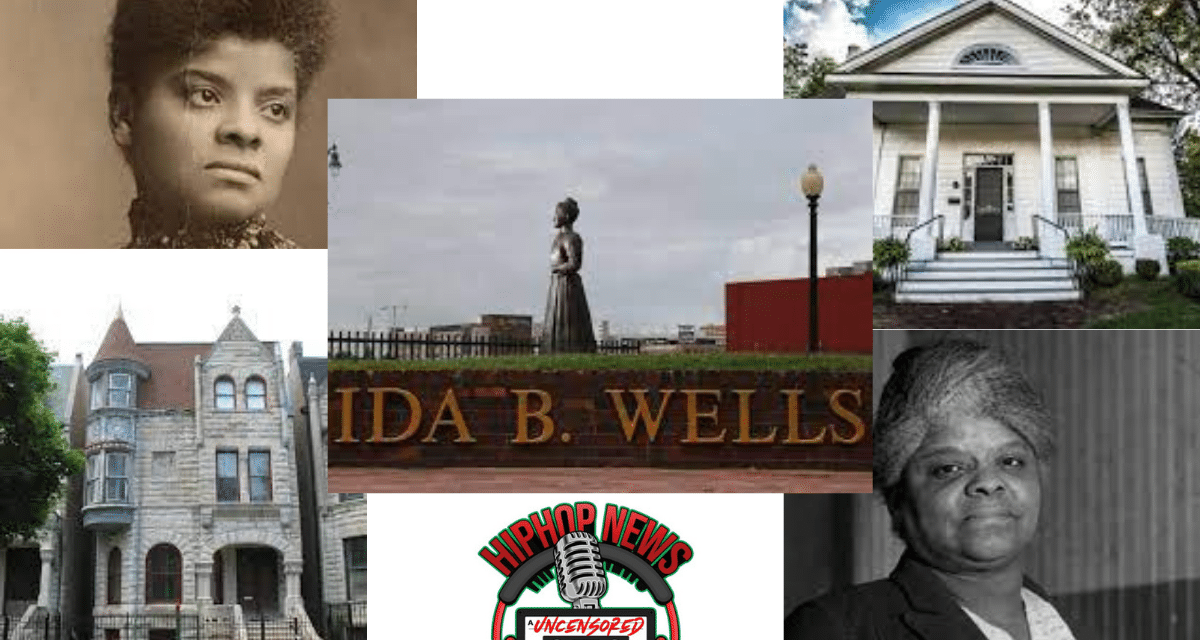 As a Black-Owned publication, we here at Hip Hop Uncensored would be remiss not to kick off the first day of Black History month, without mention of one of the greatest journalists of all time who happened to be an African American woman. This article has been written with the intention of promoting the legacy of Ida B. Wells-Barnett.
Ida B. Wells-Barnett was born in Holly Springs, Mississippi on July 16th, 1862. At 16 years old her parents and youngest infant sibling would succumb to something similar to what we are facing with this Covid 19 pandemic, yellow fever. While the threat of being separated from her siblings in foster homes loomed over her head like the gallows she saved many from, she fought to keep her family together. She became a school teacher, using that income to care for her siblings as their new head of household.
Ida B. Wells-Barnett: Not So Sweet 16
After another one of her siblings died, she and her siblings moved in with an aunt out of state. Ida B Wells-Barnett bravely began posting her research on southern lynchings in 1892 in a pamphlet called "Southern Horrors: Lynch Law in All Its Phases".
The woman's suffragette fought with her life against the routine lynchings of African Americans. Men were lynched more often than men with what she called the "threadbare" excuse of raping white women. In reality, these men were guilty of no such crime. Their real crimes were being economic competition as newly freed slaves, to southern whites. White southerners used the excuse of rape to enforce the idea of blacks as second-class citizens, with lynchings. These men would be hung from trees, raped, beaten, and burnt alive in front of sizeable white audiences using their charred flesh and bones as souvenirs.
Ida B. Wells-Barnett: Social Justice Warrior
Freed blacks on the economic rise was a contemporary issue southern whites were unsure how to deal with. Lynching "uppity negroes" or blacks who did not accept their place as inferior to whites,  helped whites to cull their numbers and their will to compete. Starting with Mississippi in 1890, Southern states passed laws and/or new constitutions to disenfranchise black people through the use of poll taxes, literacy tests, and of course, lynchings. Wells-Barnett recommended that Black people take up arms to defend themselves against lynching. People shunned her as a radical for saying black people should fight fire with fire.
Ida B Wells-Barnett: The First Investigative Reporter
Ida B. Wells-Barnett was our nation's first investigative reporter. She would travel to and fro, on location, talking with families and witnesses to tell the stories of those who had been lynched. Wells published The Red Record, in 1895, a 100-page pamphlet describing lynching in the United States since the Emancipation Proclamation of 1863.
More acts of violence were committed on blacks immediately after chattel slavery than during slavery. During slavery, blacks were seen to have too much economic value to whites to just kill off. After all, they provided free labor for a lifetime. Now that they were in direct competition with southern whites, the whites feared them due to their great numbers and economic prowess.
Ida B. Wells: International Lecturer Against Racial Injustice
"The Red Record" explored the incredible rate of lynching in the United States (which was at a peak from 1880 to 1930). According to the Equal Justice Initiative, 4084 African Americans were lynched in the South, alone, between 1877 and 1950. They were most often accused falsely of rape and murder.
Wells began writing but never finished her autobiography, "Crusade for Justice" (1928), Her daughter Alfreda Barnett Duster, in 1970, published it as "Crusade for Justice: The Autobiography of Ida B. Wells."
Wells died of kidney failure in Chicago on March 25, 1931, at the age of 68. She was buried in southside Chicago. There is an Ida B. Wells-Barnett Museum in her honor that acts as a cultural center of African-American history in Holly Springs, Mississippi.
The Leader in Hip Hop Commentary
MLA – Norwood, Arlisha. "Ida B. Wells-Barnett." National Women's History Museum. National Women's History Museum, 2017. Date accessed.
Chicago- Norwood, Arlisha. "Ida B. Wells-Barnett." National Women's History Museum. 2017. www.womenshistory.org/education-resources/biographies/ida-wells-barnett.